Freefield
Freefield, a part of the Bertocchi Group,  specializes in the design and manufacture of aseptic plants, pasteurizers, sterilizers, heat exchangers, filling machines and more. Freefield offers an integrated and flexible range of solutions designed in collaboration with our clients and their particular use case for food processing systems. The Freefield team has built its machinery manufacturing expertise by supplying solutions to the food processing industry for over 30 years.
Freefield can supply complete plants in the design, manufacturing, and operation of food processing systems. We offer on demand equipment to help customers quickly and efficiently increase production capacity.
Freefield solutions for the food industry include:
Aseptic plants with complete filling systems
Pasteurizers
Sterilizers
Heaters
Aseptic Tanks
Mixing Systems
Washing, Sorting, and Sanitization Systems
Freefield solutions are designed for the production of:
Partially solid fruit and vegetable pieces
Dairy based beverages and semi solid products
Natural and concentrated juices
Single strength and concentrated purees
Submit An Inquiry
Tube-In-Tube Heat Exchanger Sterilizer Line
The aseptic heat exchanger sterilizers with filling machines are available in different types of configurations and options.
High viscosity products such as sweet potatoes, beans, squash, etc.
Customized system configurations for high viscosity and low acid products
Low acid product solutions that retain organoleptic characteristics such as color and flavor.
Aseptic and Receiving Tanks
Freefield offers a wide range of horizontal and vertical aseptic and/or receiving tanks designed to fit your specific requirements.
Dual solution receiving tanks for both receiving and performing deaeration processes of fruit and vegetable purees and juices.
Sterilization and Heat Exchange
The sterilization system constitutes the core of the fully integrated processing lines. The sterilizer is mainly composed of a Tube-In-Tube heat exchanger section, a holding section, and cooling section.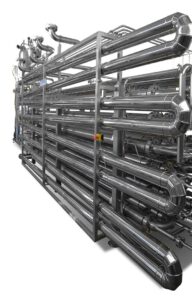 Specifically designed for single strength or concentrated fruit and vegetable purees or juices
Production capacity up to 10,000 l/h for a wide range of inlet temperatures
Flexibility for processing multiple products utilizing an adjustable by-pass and pumping system
Direct connection to aseptic filler
Aseptic Filling Systems
Aseptic filling ensures products remain safe, fresh, and high quality in order to maintain there taste, color, texture and essential nutritional values. Freefield collaborates extensively with customers to design an aseptic system that will result in an optimization of the aseptic processing parameters such as temperature and fill rate. Freefield heat exchangers can be adapted to work with a wide range of Aseptic Fillers from various brands.
Capable of filling a wide range of fruit and vegetable purees
Filling of bags, drums, and totes.
Compatible with multiple bags type manufacturers
C.I.P. System
The complete Freefield line ca be equipped with a Cleaning-In-Place (C.I.P.) that allows to wash automatically all parts of the plant. The C.I.P. unit allows to execute rapid washing with water as well as in depth and close washing through chemical solution. The C.I.P. System is fully dedicated to washing the whole line and in operation only during this use.