PROCUT OMNI 100
ProCut OMNI is the cutter mixer dedicated to small and medium companies such as farms, pastry shops, restaurant.
ProCut OMNI is versatile and able to cut, mix, vacuum cook, cool and emulsify a wide array of products.
From crème patissière to jams and marmalades, from sauces to baby food, the fields of application are several.
ProCut OMNI is an efficient choice for who already utilized similar equipment and wants to look at optimal horizon in terms of maintenance, ease of use and duration.
The range comes from four models with 20, 40, 60 e 100 liters capacity.
One of the distinctive features is the ability to cook with a new principle; Magnetic Induction Technology.
The most of Cutter Mixer available on the market allows to cook with steam and this generates high maintenance expenses considering the constant interventions of the steam generator.
ProCut OMNI offers the option: the induction heats the water that heats the products; in this way the heating process is slower than others and the product cooking is better.
This innovative concept of heating allows to obtain a better energy yield with costs reduction.
Less maintenance, more precision are the main features of ProCut OMNI to face the competition providing a high-quality equipment.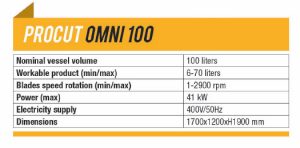 Submit An Inquiry