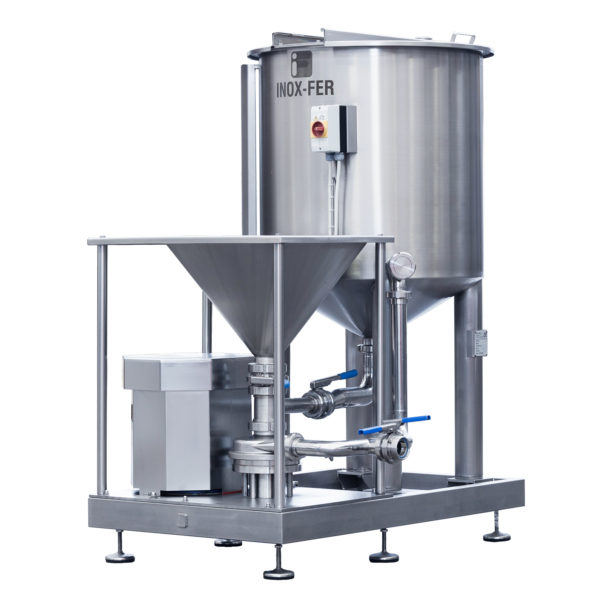 INOX FER Ultra Rapid Mixing System 
System Utilized for:  Brines / Sauces / Dressings /Juices / Pectin / Starch
INOX FER Ultra Rapid Mixing System includes: TMV40 Triblender System with 900 Liter SS Tank
Rapidly dissolves powders using the double venturi effect design.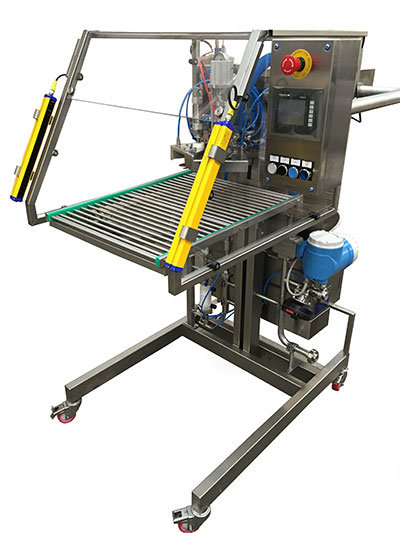 Alfa Laval Piccolo Non-Aseptic Bag-in-Box Filler
Automatic Volumetric Filler with Manual Bag Feed with 1"Fitments
Ideal for a Wide Range of Liquids and Viscous Pumpable Products
Can Work with a Wide Variety of Fitment/Cap Types & Bag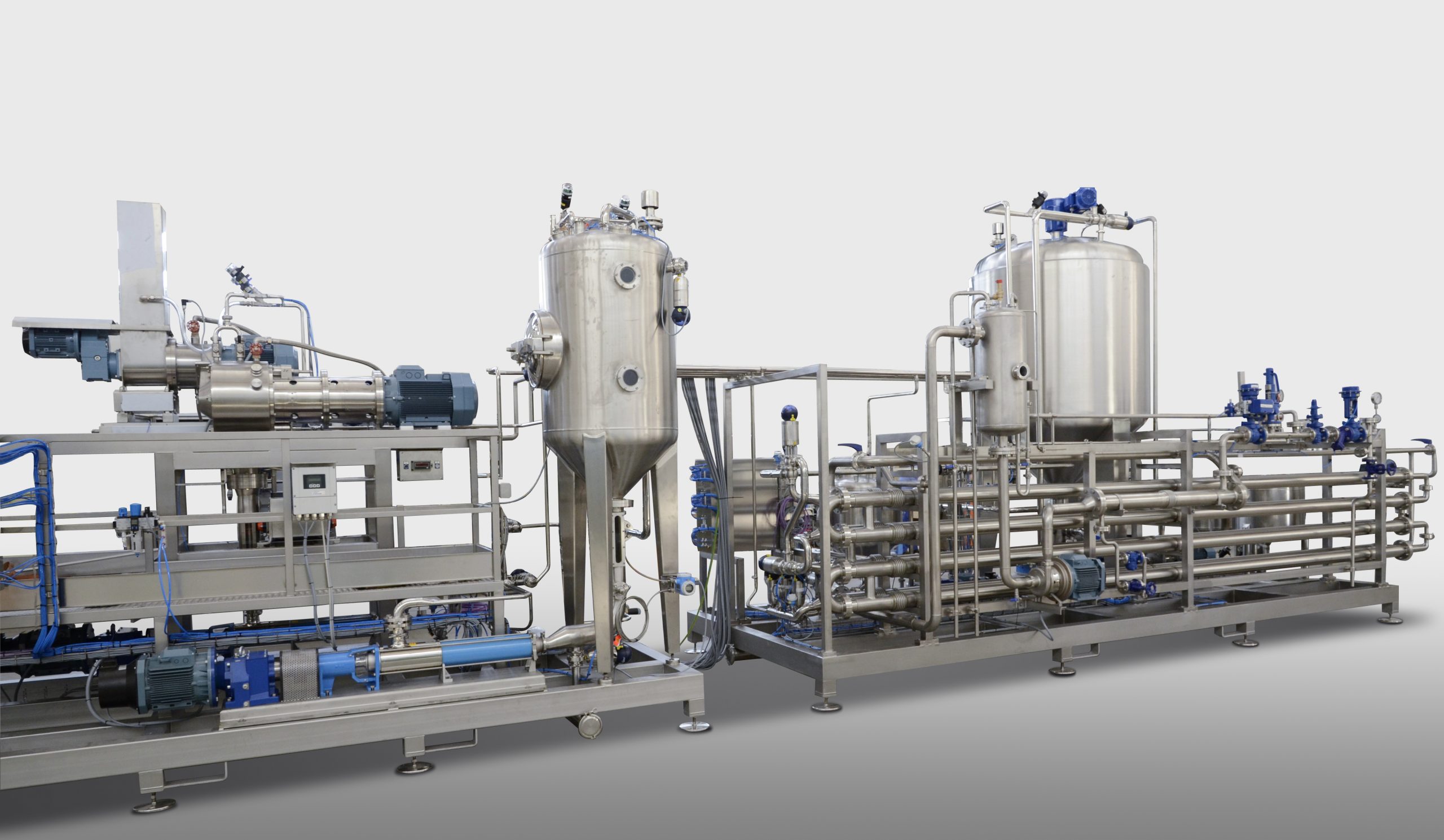 Bertocchi Ultra Cold / Frozen Extraction System
System Utilized for:  HPP / Baby Foods / Apple Sauce / Vegetable Puree / IQF Processing
Includes:
UVFX2 Ultra Variable Speed Cold / Frozen Extraction Turbo Extractor
DEA Cold Deaeration System
EOS TT thermal system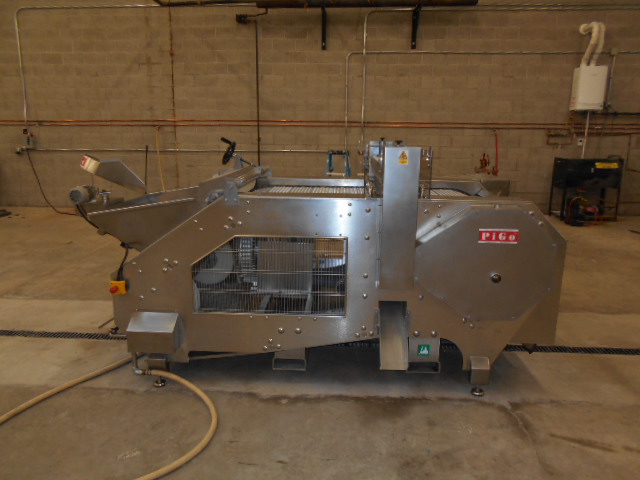 PiGo PG 103 Pitting Machine
System Utilized for:  Destoning Cherries in Alcohol or any other purpose utilizing very small fruits.
Standard delivery.  Equipped with installed tools for cherry processing, plates with holes of 25/13 mm (186 on the plate), or according to customer request (i.e. 22/11 mm with 225 holes on the plate, made of special anti-corodial aluminum alloy).

Equipped with holes Ø18.5 / Ø10mm (225 holes on the plate), and knives with diameter of  6.5 / 7 / 7.5 mm.
60 strokes per minute (maximum number of strokes is higher) with 186 holes at a 25 mm diameter, provides 669,600 pcs of fruit per

 

hour.
With 225 holes at 22 mm diameter, provides 770,000 pcs of fruit per hour. All plates are filled minimum capacity of 95%, which provides 636,120 cherries per hour. If you have, for example, 300 cherries in one kg, it will provide total capacity of about 2100 kg of fresh fruit per hour. According to our clients' experience, they are achieving even greater capacities!
If considered cherries are of bigger size (for instance 200 pcs/kg), capacity is increasing, up to over 3000 kg/h of fresh fruit!
For work with plums and apricots, maximum machine capacity can be 2000-2500 kg/h, but we advise working with slower machine speed in order to give some time for manual help of fruit orientation and obtain better cutting results.
Advised capacity for plums and apricots would be around 1000-1300 kg/h.
Installed power:
Main drive: 4 kW
Brush: 0.37 kW
Air blower: 5.5 kW
Distributor: 0.12 kW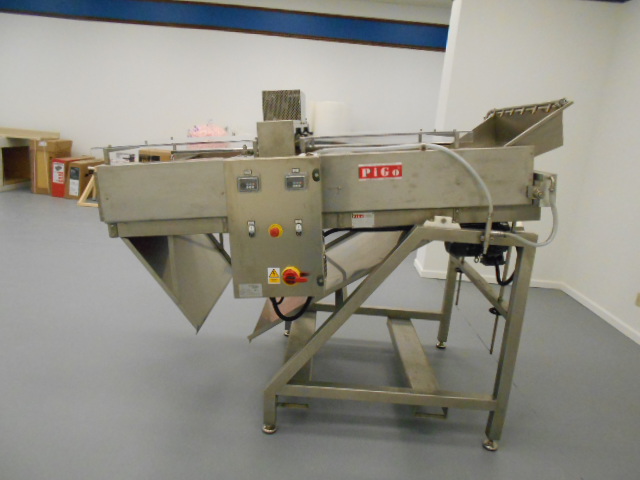 PiGo PG 138 Destalking Machine
System Utilized for:  Elimination of stalks and leaves.
Used for cherries. Machine is equipped with rinsing system/spray nozzles.
Providing simultaneous rinsing of the product, as well as efficient stalks and leaves removal from the product.
Efficiency for strawberries is lower than for cherries, (about 60% instead of 90%), with possible surface damage if product is soft.
Installed power:
Belt of rolls 2,2 kW
Gris 0,55 kW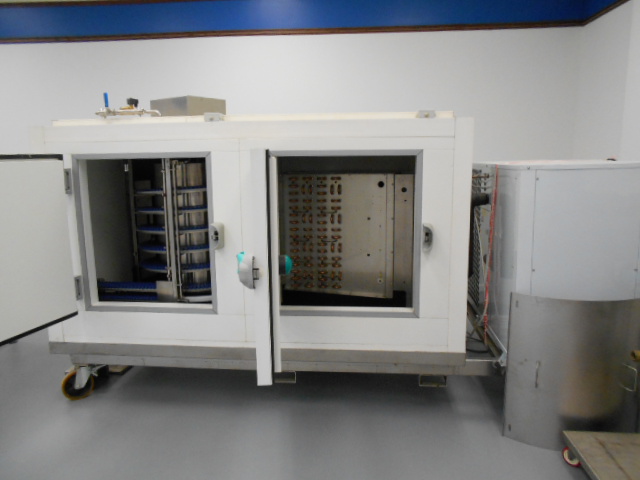 PiGo EASY Freeze Spyro
TECHNICAL CHARACTERISTICS

EASY Freeze SPYRO EFS 140-06-1 VOT-EC
Belt design Technical data:
Belt width: 140 mm approx.
Belt length: 23 m approx.
Drum Ø: 550 mm
N°. of drum: 1
N° of tiers: 6
Tiers distance – pitch: 110 mm approx.
Free space between tiers: 59 mm approx.
In feed height: 900 ±100 mm
Out feed height: 1560 ±100 mm
Available freezing time: 20' / 70' (min 20 max 80 minutes)
Freezing design Technical data:
Evaporator Fin pitch: 10 mm (standard – monodirectional)
Evaporator surface: 31 m2 approx.
Enthalpy value: 120 kCal/kg
Refrigerant type: NH3 / FREON
Evaporative temperature: -40°C
Evaporator defrost method: by Hot Gas and water
Product thermal load: 1 kW approx.
Total thermal load: 4 kW approx.
Required refrigeration: 5 kW approx.
Installed electric power: 7 kW approx.
Overall dimensions of housing: 1300 x 2400 x 1700 mm
Overall dimensions of complete unit: 1850 x 4000 x 1950 mm
Total weight of complete unit: 1390 kg