Patented For Peaches, Apricots, Plumbs, Avocados – Continuous Process
The PTCX Turbo Extractor is capable of destoning peaches, apricots, plumbs, and avocados in a continuous process for the production of purees.  The stone is discarded clean and whole in order to provide excellent yield and downstream production quality.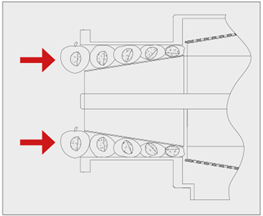 Forefront system, integrated into a sole machine that replaces traditional rolling drum and stone cleaner type machines while offering higher yields, quality, and output.
The PTCX is a low maintenance with no mechanical adjustment required when the product changes dimensions, ripeness, or hardness when compared to traditional drum destoners.
The PTCX Turbo Depitter is available in three models from 5 to 15 tons per hour output capability. The machines is designed for cold (room temperature) extraction.  Please contact us for more information and to schedule a test evaluation of your product!
[et_pb_section fb_built="1" _builder_version="3.22" custom_padding="0px||||false|false"][et_pb_row _builder_version="3.25" background_size="initial" background_position="top_left" background_repeat="repeat" width="100%" custom_padding="0px||0px||false|false"][et_pb_column type="4_4" _builder_version="3.25" custom_padding="|||" custom_padding__hover="|||"][et_pb_wc_breadcrumb _builder_version="3.0.47"][/et_pb_wc_breadcrumb][et_pb_wc_cart_notice _builder_version="3.0.47"][/et_pb_wc_cart_notice][/et_pb_column][/et_pb_row][et_pb_row column_structure="1_2,1_2" _builder_version="3.25" background_size="initial" background_position="top_left" background_repeat="repeat" width="100%" custom_padding="0px||||false|false"][et_pb_column type="1_2" _builder_version="3.25" custom_padding="|||" custom_padding__hover="|||"][et_pb_wc_images _builder_version="3.0.47"][/et_pb_wc_images][/et_pb_column][et_pb_column type="1_2" _builder_version="3.25" custom_padding="|||" custom_padding__hover="|||"][et_pb_wc_title _builder_version="3.0.47"][/et_pb_wc_title][et_pb_wc_rating _builder_version="3.0.47"][/et_pb_wc_rating][et_pb_wc_price _builder_version="3.0.47"][/et_pb_wc_price][et_pb_wc_description _builder_version="4.4.1"][/et_pb_wc_description][et_pb_wc_add_to_cart _builder_version="3.0.47"][/et_pb_wc_add_to_cart][et_pb_wc_meta _builder_version="3.0.47"][/et_pb_wc_meta][/et_pb_column][/et_pb_row][et_pb_row _builder_version="3.25" background_size="initial" background_position="top_left" background_repeat="repeat" width="100%"][et_pb_column type="4_4" _builder_version="3.25" custom_padding="|||" custom_padding__hover="|||"][et_pb_wc_tabs _builder_version="3.0.47"] [/et_pb_wc_tabs][et_pb_wc_upsells _builder_version="3.0.47"][/et_pb_wc_upsells][et_pb_wc_related_products _builder_version="3.0.47"][/et_pb_wc_related_products][/et_pb_column][/et_pb_row][/et_pb_section]