New System For Instantaneous Deactivation Of Cold Extraction Puree
The EOS Revolution – patented is a new and revolutionary enzymatic deactivation system that allows for the immediate heating of the product at the outlet of the screen inside the Turbo Extractor. The product instantly passes from the extraction body to the EOS system thus  eliminating dwell time and performing immediate enzymatic deactivation.
Benefits
Instantaneous enzymatic deactivation without further steps and loss of time
Simplified process by not having to utilize a deaeration system or mono pump
Eliminates or significantly reduces ( depending on product) the use of ascorbic acid
Smaller footprint while increasing operational efficiency vs a traditional system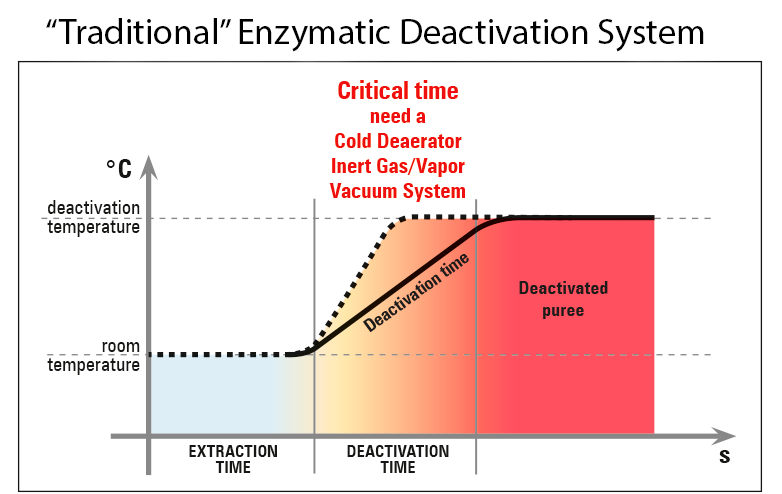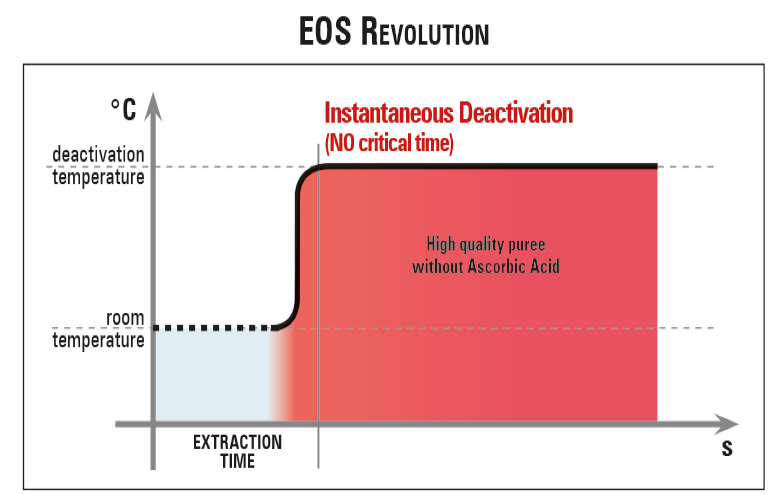 The EOS Revolution can be used to process a wide range of purees including but not limited to:
Apples
Pears
Pumpkin
Peaches
Apricots
Tropical Fruits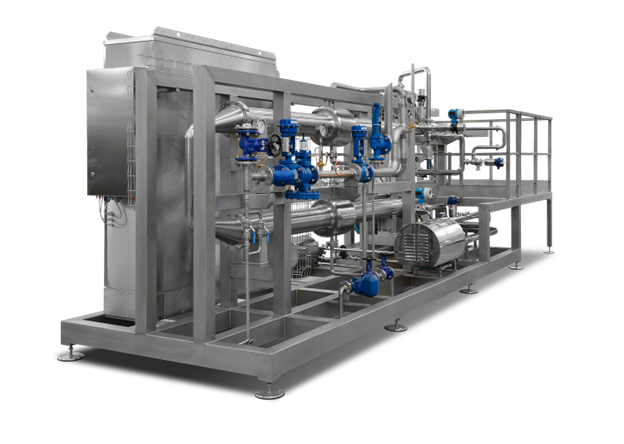 The EOS Revolution is designed for the highest quality production of:
Purees
Baby Food
Compotes
Sauces
Since the skins are removed before the deactivation process, any contaminates or tendency to affect the flavor of the puree are removed before the actual enzymatic deactivation process.
The EOS Revolution is available in 10 different models sizes ranging in capacity from 1000 kh/h to 24 t/hour.
[et_pb_section fb_built="1" _builder_version="3.22" custom_padding="0px||||false|false"][et_pb_row _builder_version="3.25" background_size="initial" background_position="top_left" background_repeat="repeat" width="100%" custom_padding="0px||0px||false|false"][et_pb_column type="4_4" _builder_version="3.25" custom_padding="|||" custom_padding__hover="|||"][et_pb_wc_breadcrumb _builder_version="3.0.47"][/et_pb_wc_breadcrumb][et_pb_wc_cart_notice _builder_version="3.0.47"][/et_pb_wc_cart_notice][/et_pb_column][/et_pb_row][et_pb_row column_structure="1_2,1_2" _builder_version="3.25" background_size="initial" background_position="top_left" background_repeat="repeat" width="100%" custom_padding="0px||||false|false"][et_pb_column type="1_2" _builder_version="3.25" custom_padding="|||" custom_padding__hover="|||"][et_pb_wc_images _builder_version="3.0.47"][/et_pb_wc_images][/et_pb_column][et_pb_column type="1_2" _builder_version="3.25" custom_padding="|||" custom_padding__hover="|||"][et_pb_wc_title _builder_version="3.0.47"][/et_pb_wc_title][et_pb_wc_rating _builder_version="3.0.47"][/et_pb_wc_rating][et_pb_wc_price _builder_version="3.0.47"][/et_pb_wc_price][et_pb_wc_description _builder_version="4.4.1"][/et_pb_wc_description][et_pb_wc_add_to_cart _builder_version="3.0.47"][/et_pb_wc_add_to_cart][et_pb_wc_meta _builder_version="3.0.47"][/et_pb_wc_meta][/et_pb_column][/et_pb_row][et_pb_row _builder_version="3.25" background_size="initial" background_position="top_left" background_repeat="repeat" width="100%"][et_pb_column type="4_4" _builder_version="3.25" custom_padding="|||" custom_padding__hover="|||"][et_pb_wc_tabs _builder_version="3.0.47"] [/et_pb_wc_tabs][et_pb_wc_upsells _builder_version="3.0.47"][/et_pb_wc_upsells][et_pb_wc_related_products _builder_version="3.0.47"][/et_pb_wc_related_products][/et_pb_column][/et_pb_row][/et_pb_section]